Project
MUSE Fashion Magazine and Journal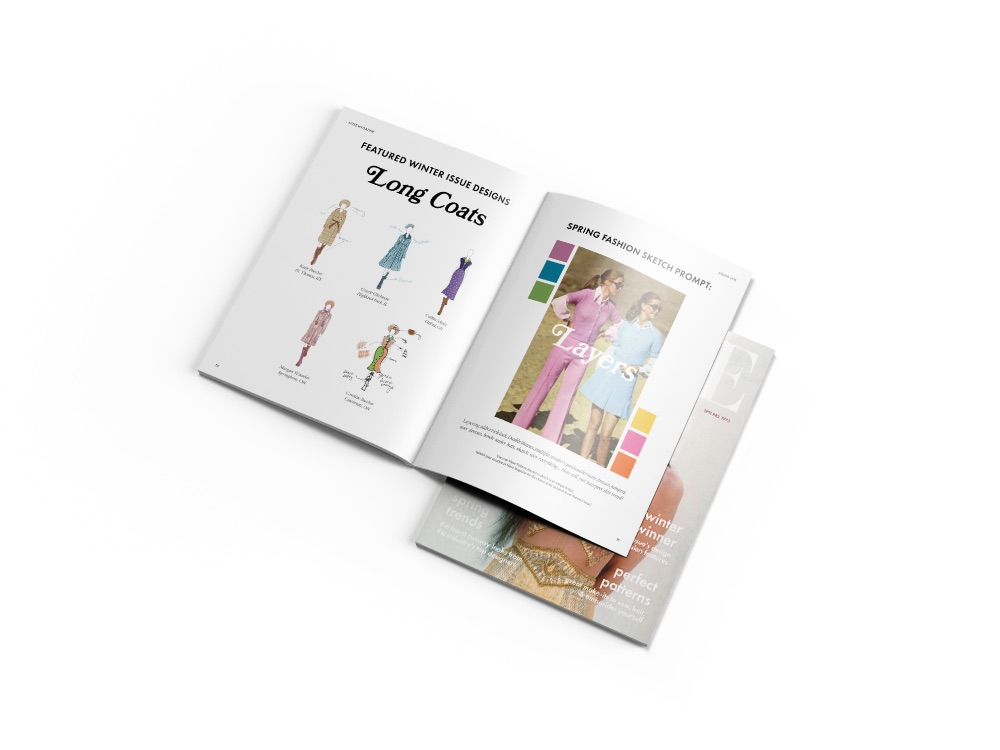 The People-Driven Design project for our Design for Use course required us to create a non-screen-based outcome to serve the needs of a people group, driven by an activity-centered approach to design. The outcomes I developed were based on the persona randomly generated for me at the start of the project.
My persona was an American Indian 9-year-old female named Dawn. She lives in Oklahoma City, Oklahoma in the year 1975 and is interested in high fashion. She's one of 8 siblings, quiet and contemplative, and likes to feel special.
To meet Dawn's needs, I designed a fashion magazine and corresponding fashion journal to inspire and encourage aspiring young designers to create their own fashion sketches.
Process Work
After generating my persona, the next step was to ideate at least three activities my persona could do, and what I would design, based on their interest. My potential activities for Dawn were:
Keep her up-to-date on the most recent fashion trends: I will create a high-fashion magazine that's catered to kids (but still feels refined!). Think Teen Vogue, but for grade schoolers.
Encourage her to create her own designs: I will create a journal for fashion sketches that's complete with templates, prompts, and perhaps even stickers!
Provide her with kid-sized versions of the latest styes: I will create a catalog that sells the season's up-and-coming looks, but in child sizes! From there, she can choose her favorite items to order so she can play dress up in style.
After receiving feedback from my professor and peers, I decided to combine my ideas of creating a magazine and a journal into one interactive publication. From there, I developed sketches and a style board for a high fashion magazine appropriate for kids.
However, after talking through this idea, I decided I wanted to separate the magazine and journal into two entities, so my persona could have her own journal, making it feel more personal, that corresponded with the magazine. Before further developing my design, I refined my style board.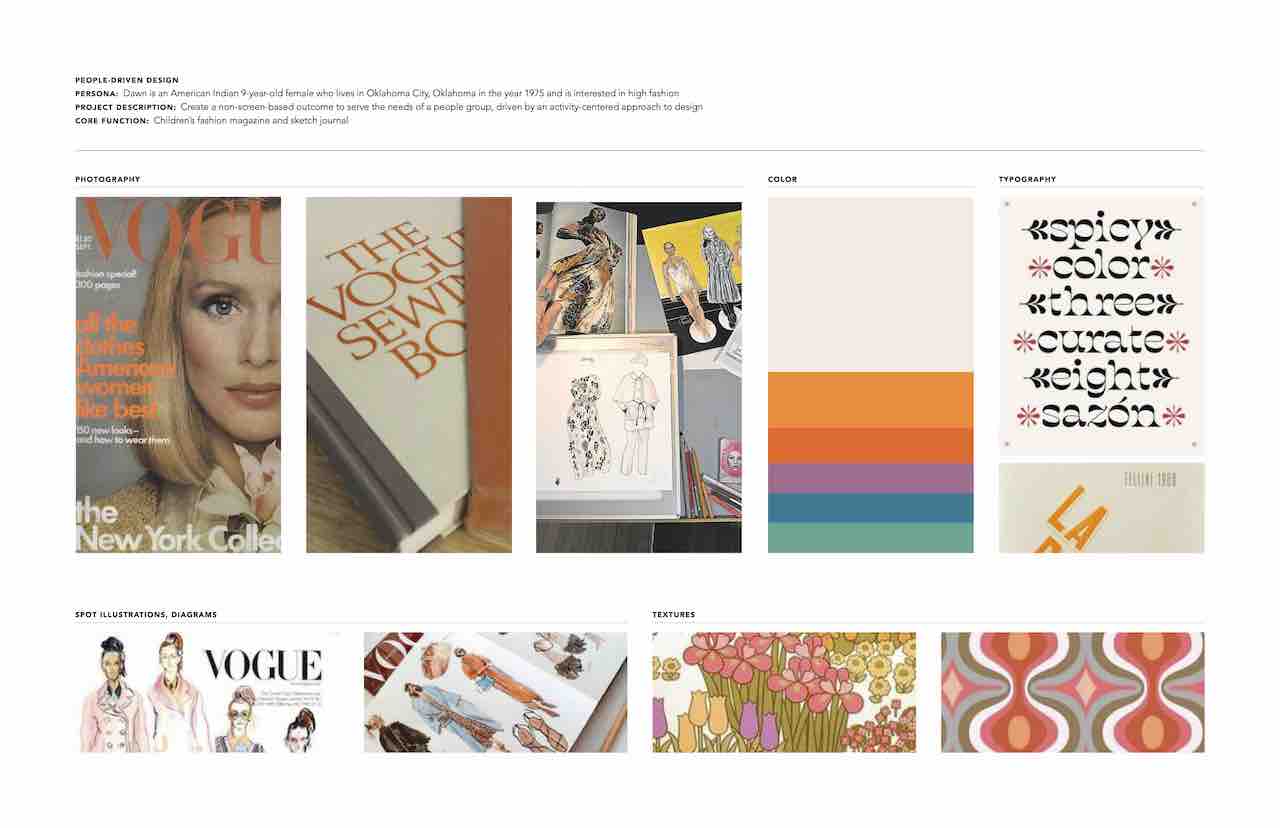 It was then time for me to start designing these pieces! I began with the covers of the magazine and the sketchbook.
Completed Project Work
My magazine, Muse, is a fashion publication targeted towards a younger audience. As fashion's timeline is seasonal, Muse issues are released in the winter, spring, summer, and fall of each year. While drawing stylistic inspiration from magazines that were popular in 1975, such as Vogue and Seventeen, Muse's focus is primarily on high fashion as opposed to lifestyle, ensuring that it's appropriate for readers of all ages. Spreads include photo editorials, highlights of the season's runway, an article on a celebrity fashion influencer, featured sketch submissions from the previous issue, and the season's sketch prompt.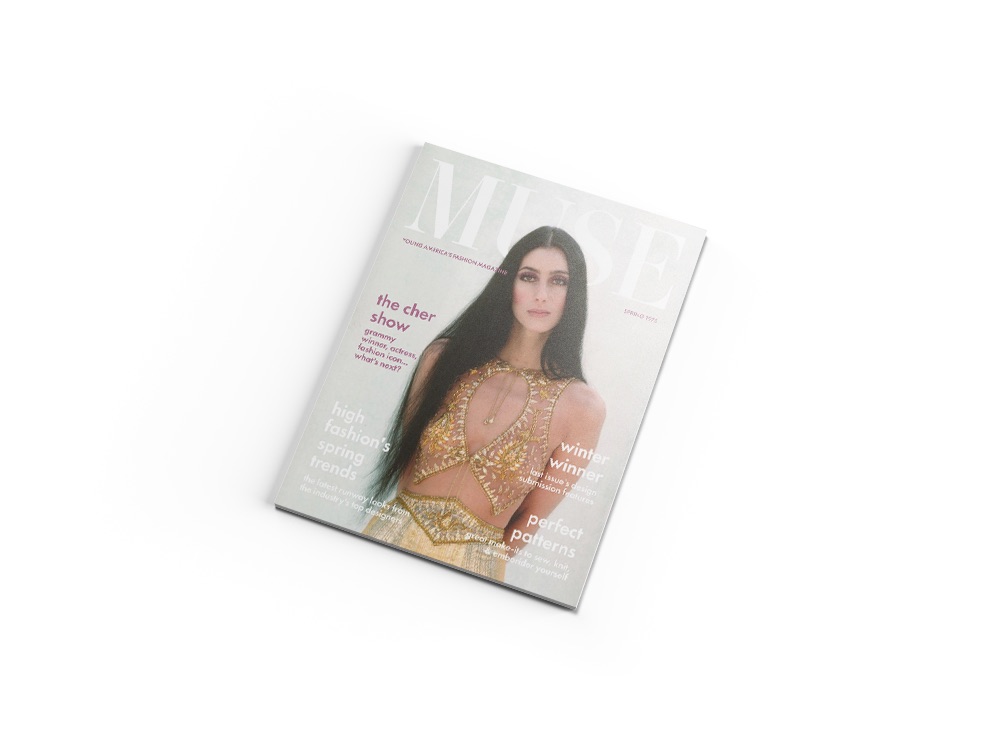 To go along with Muse, I also created a fashion journal for readers to complete their seasonal prompts in (or to ideate on their own!). Each page has a corresponding sheet of tracing paper, features a model template to draw on, and has perforated edges that make for easy removal once the sketch is completed. From there, the user can take an envelope from the back of the journal, seal their design, and send it to Muse for the chance to be featured in the next issue of the magazine.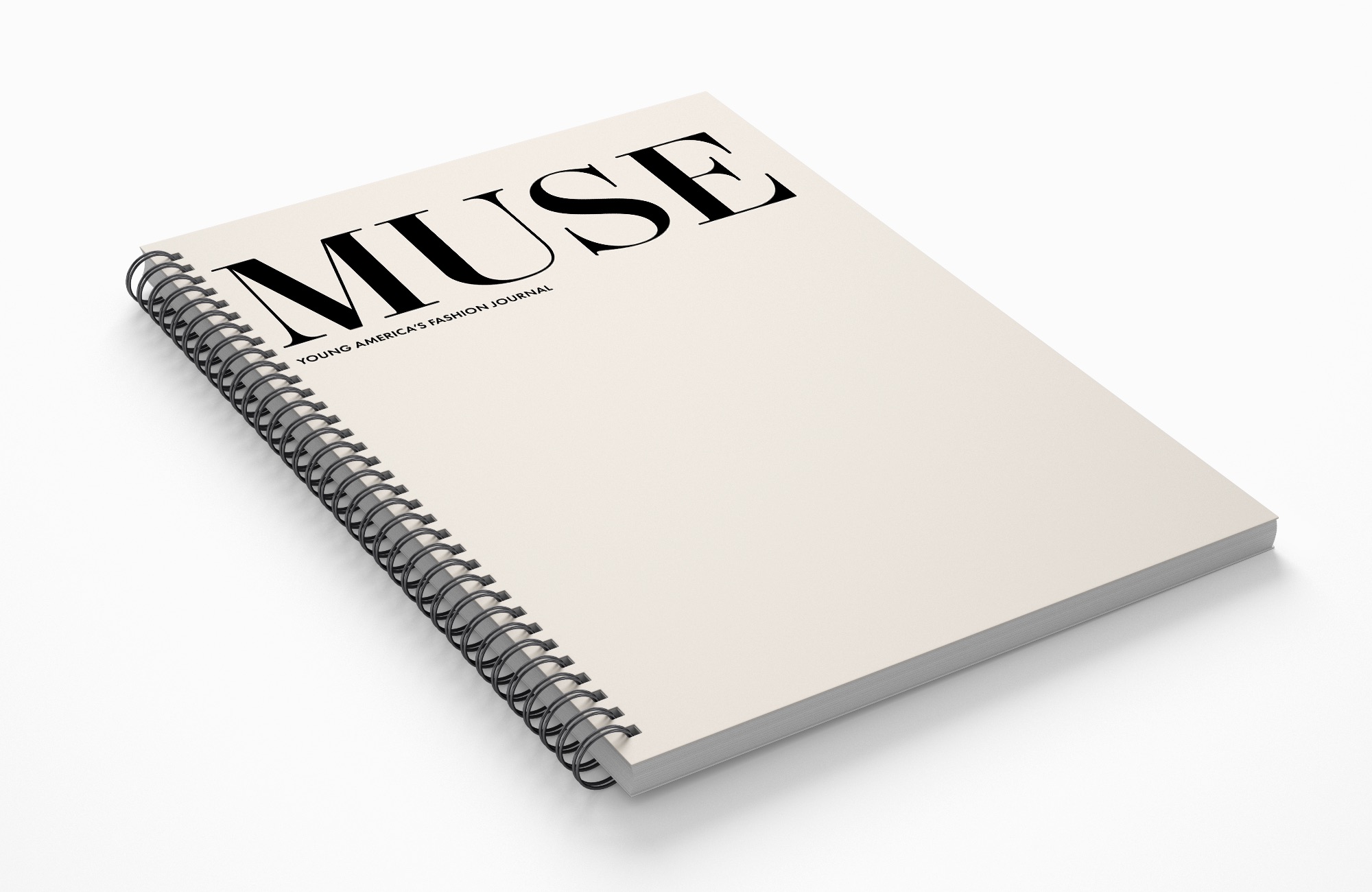 Paired together, Muse and the Muse fashion journal provide Dawn with the resources she needs to be empowered and inspired to make her own high fashion creations!