Project
The Arcade: People Driven Design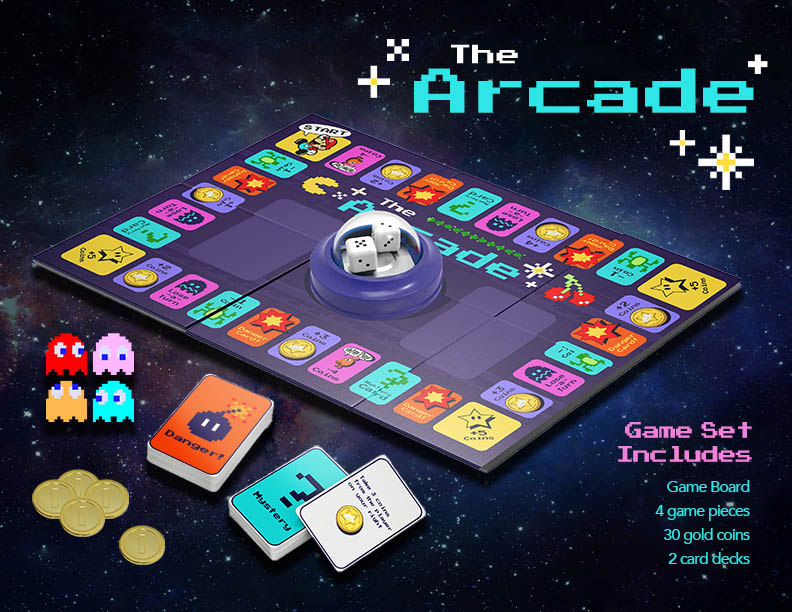 Laurin McNulty – Class of 2022
The Project
In any situation, it is essential for a designer to consider their target audience's desires, needs, and opinions throughout the creative process. In this assignment, students were each given a detailed, randomly generated persona to design a final deliverable for. My persona is a 19-year old, Asian American woman living in Madison, Wisconsin in the year 1995. Her name is Mila, she is a single mother of a 2 year old boy named Andrew. Mila greatly. values the time that she is able to spend with her family, she is very close with her parents as she is an only child. Mila is very interested in vintage video games from the 70's and 80's. For my final deliverable I decided to create a family friendly video game themed board game. I wanted my final deliverable to be engaging and visually exciting. When working towards my final product, Mila's connection with her family was one of the main things that inspired me to create this board game that my persona could play with her loved ones.
'The Arcade' is a 4 player collection board game. In this game, each player begins with their character on the 'start square', then they each take a turn rolling the die. The players are then prompted by the square that they land on. Different squares have different prompts on them. Prompts include picking up mystery or danger cards, collecting gold coins, skipping a turn, and so on. The first player to collect 20 gold coins wins! The game set includes a game board, 4 game character pieces, a bag of 30 gold coins, and 2 card decks.
The Process
In the beginning stages of this assignment, I wanted to design a book on the history of video games that my persona and her son could read together. I was inspired by the playful layout design of the National Geographic magazines that are intended for children. I thought that creating an informational picture book with vibrant graphic elements would appeal to my persona. As I started working on this idea, I realized that designing a simple book would not be as engaging as I had hoped. I considered implementing 'choose your own adventure' or pop-up book elements but instead I decided to reevaluate.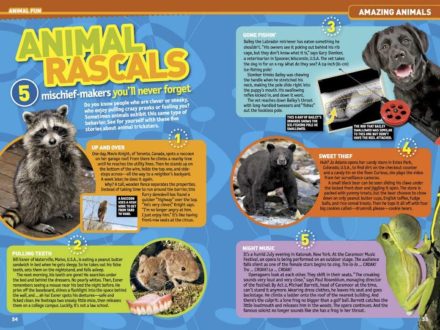 As I wanted to create an engaging final outcome, I decided to consider creating a board game. Seeing that a board game would be a great activity to get all of my persona's loved ones involved, I thought that this felt like a much better direction. I began by collecting inspiration from video game posters and arcade games from the 70's and 80's. I also collected inspiration from existing board games, one of the main ones was a game first released in 1965, Trouble.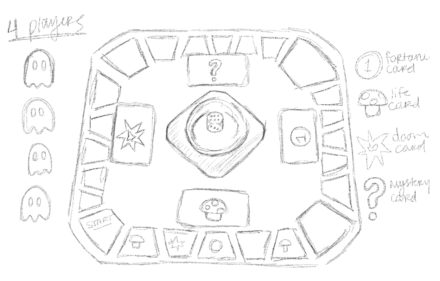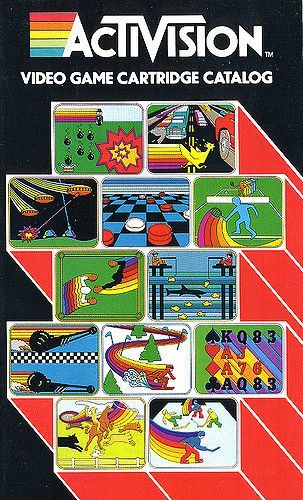 The Final Deliverable
After taking inspiration from popular vintage video games, board game mechanics, and color schemes, I created a board game called 'The Arcade'. Here are the final deliverables.