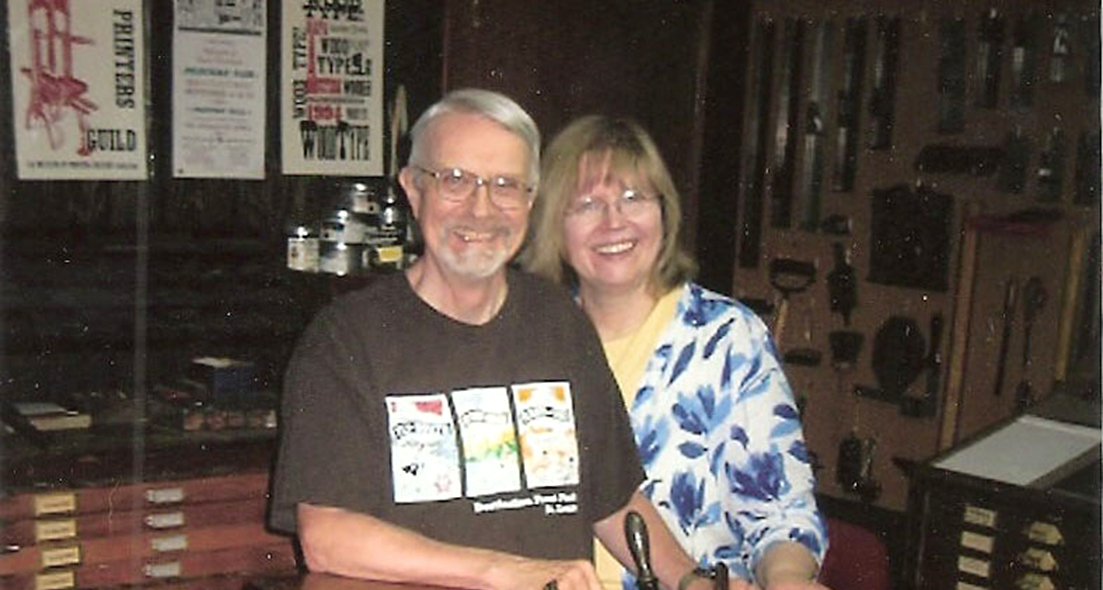 Carole Mullen grew up watching her father letterpress print. She enjoyed watching him create pieces and eventually assisted him in his shop. His membership in the Amalgamated Printers' Association (APA) led to many friendships and inspired Carole to join herself. 398, Carole's father's APA number was passed on to her and her husband Bob when her father passed away. The couple enjoys hobby printing and continues to be inspired by other printers in their community. Bob and Carole discuss their role in the letterpress community and reflect on their lives as printers.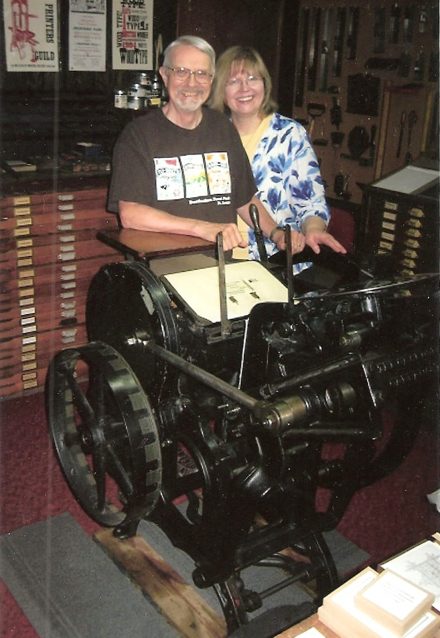 Bob Mullen did not know about letterpress printing until marrying Carole. He quickly found that he was intrigued by the process as well as the history of printing and typesetting. After moving to Saint Louis, Missouri, he began to research typefounders – people engaged in the design and production of metal printing type for hand composition. Bob worked at the Saint Louis History Museum as the Collections Manager where he found resources for his research. He also found type specimens and other information at the Saint Louis public library. In 2005, after eight years of research, Bob published the book Recasting a Craft: St. Louis Typefounders Respond to Industrialization. Based on this research, he was able to publish other pamphlets as well.
Bob's interest in typefounders came after he started questioning the origin of the type that was passed to Carole and Bob. Her father's type collection was transported from his home in Wisconsin to Saint Louis. Box explained that, "we were living in Saint Louis at the time and when Carole's mother remarried she said if we want this stuff to come and get it. So we did. We hauled it down with the help of friends. We somehow managed to do it all." It was then sent back up to Wisconsin when Carole and Bob moved up north to LaCrosse, where they reside now. "Coming to Wisconsin after retiring in 2011, we packed everything again."
"We had over 800 fonts of type and probably 400-500 cases of type."

-Bob Mullen
We hauled them up one by one into the garage. I didn't trust them, but we did hire movers because I didn't want to injure myself. But I watched them with eagle eyes after teaching them how to carry a typecase flat so it wouldn't tip. They put them in the new garage and moved the equipment and cases into the basement, but I carried the cases one at a time carefully so I could arrange them the way I wanted them."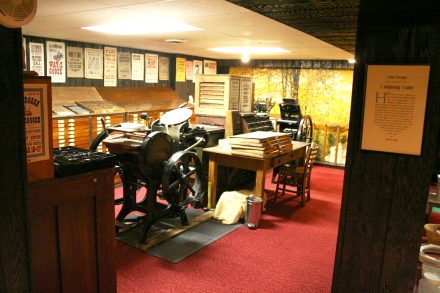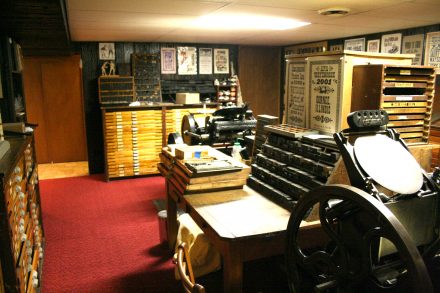 "We work with handset type and have two main presses, a 9×12 Chandler and Price and a 7×11 Pearl."

-Carole Mullen
"Chandler and Price is from a LaCrosse commercial printer… My dad, who was a hobby printer for many years, acquired it directly. We also have a number of cases from the LaCrosse shop," she explains.
Bob and Carole often work together to design pieces and assist each other in completing them. "I think working together is fun," exclaims Carole. "Usually someone takes the lead," they explain. When proofing they double check each other's work. Their work includes cards with sayings, bookmarks and booklets. They also create holiday cards each year. When asked what their favorite part of the process is, they both agree that their enjoyment stems from historic typography.
"We are not involved in actually typefounding and making type. There are some printers that are casting fonts from old molds and we are enthusiastic purchasers of those things, but don't let me near any hot metal," Carole jokes. The couple has attended typefounding events to purchase historic type to add to their collection.
As an English major, Carole likes to print popular poetry pieces and writes some pieces herself. Bob likes to print pieces that are related to his love for history.
"If it's poetry you can probably guess I was the instigator. If it's history you can guess it's Bob."

-Carole Mullen
Both use historic type to display these subjects and like to share their work with others. They laugh about their "magic power" to identify fonts as they are able analyze typeforms and have done many studies on historic type.
Since she started printing, Carole says she learned that she likes to create things that other people value. Booklets, even though they take longer to create, seem to be kept more than other small pieces, like bookmarks, sayings and cards. During cold Wisconsin winters, they dive into larger projects when they are inside staying warm. They like to hand out smaller pieces at the annual APA Wayzgoose event, as well as other local smaller letterpress printing conventions.
Bob and Carole have also attended events where they bring a smaller press and printing materials to demonstrate the printing process and even allow others to try to print. They reflected upon an event on the riverfront in Saint Louis where they hauled a small press across a cobblestone street in the rain inside so that people could try it for themselves. Attendees created bookmarks. Carole and Bob explained that it makes them happy to see how exciting it is for people when they create a piece themselves. Carole has even printed with young students before and was shocked at how intrigued they were by the press. "They kept asking to print," she remembers. Carole believes that this visual expression is so great for students to express themselves. She discussed how sharing her love for letterpress with younger people is so great. Seeing the expression on their face when they get to hold their final product is so exciting to her.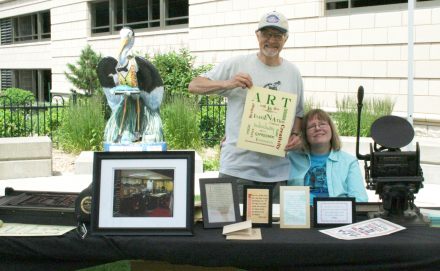 Bob and Carole also look forward to attending the APA conventions. Carole has attended these events for years since becoming a member of the organization. She remembers that APA used to consist of primarily men who were, "old linotype workers or people that had done commercial printing. There was also an amateur journalist kind of group."
"There were some early pioneering women that were very spunky of which I later became one,"

-Carole Mullen
"As a child I got involved when I was about seven or eight years old. I was hanging out in the shop and after a while my father learned that I liked to distribute type… and I was good at it. So I became his little apprentice," Carole remembers.
Carole says that the letterpress community has changed for the better. "Now there are many more people coming in from art programs at universities, there are many more women and the format is much larger." The increase in university letterpress programs has led to more APA members. "For a time it looked like letterpress would die out, but now there is this infusion of creative young people that have come in and it is so exciting for us," Carole exclaims. "We like to go to the Hamilton Wayzgoose in Two Rivers, Wisconsin. The first time we went we were blown away. There were about 300 people there and most of them were under age 30! The enthusiasm and energy were amazing." They both value the heritage of letterpress.
"It is such a heritage!"

-Carole Mullen
This is something that has such a huge history and all the type reflects that," Carole states. She talked about how it started with Gutenberg and became an art form. "I love being able to create and express myself with it," Carole says, discussing why she values the printing process. Bob agrees, mentioning how this heritage was something he was excited to research and learn more about. Bob's love for history and Carole's connection with letterpress have driven them both to learn more about the history of the process and reflect what they learn in their pieces.
Since their interest stemmed from the historical background of the process, they hope that remains valued alongside the new digital processes that printers are introducing to the community. Meeting individuals who share this passion inspires them to continue to print and share their work with others. Discussing the future of letterpress printing, Carole explains how she hopes that, "interested people will carry it on, and I think we are seeing that now. I used to really wonder what would happen to letterpress but not anymore… I think we are in good hands."
Interviewed & Written by Maggie Walkoff