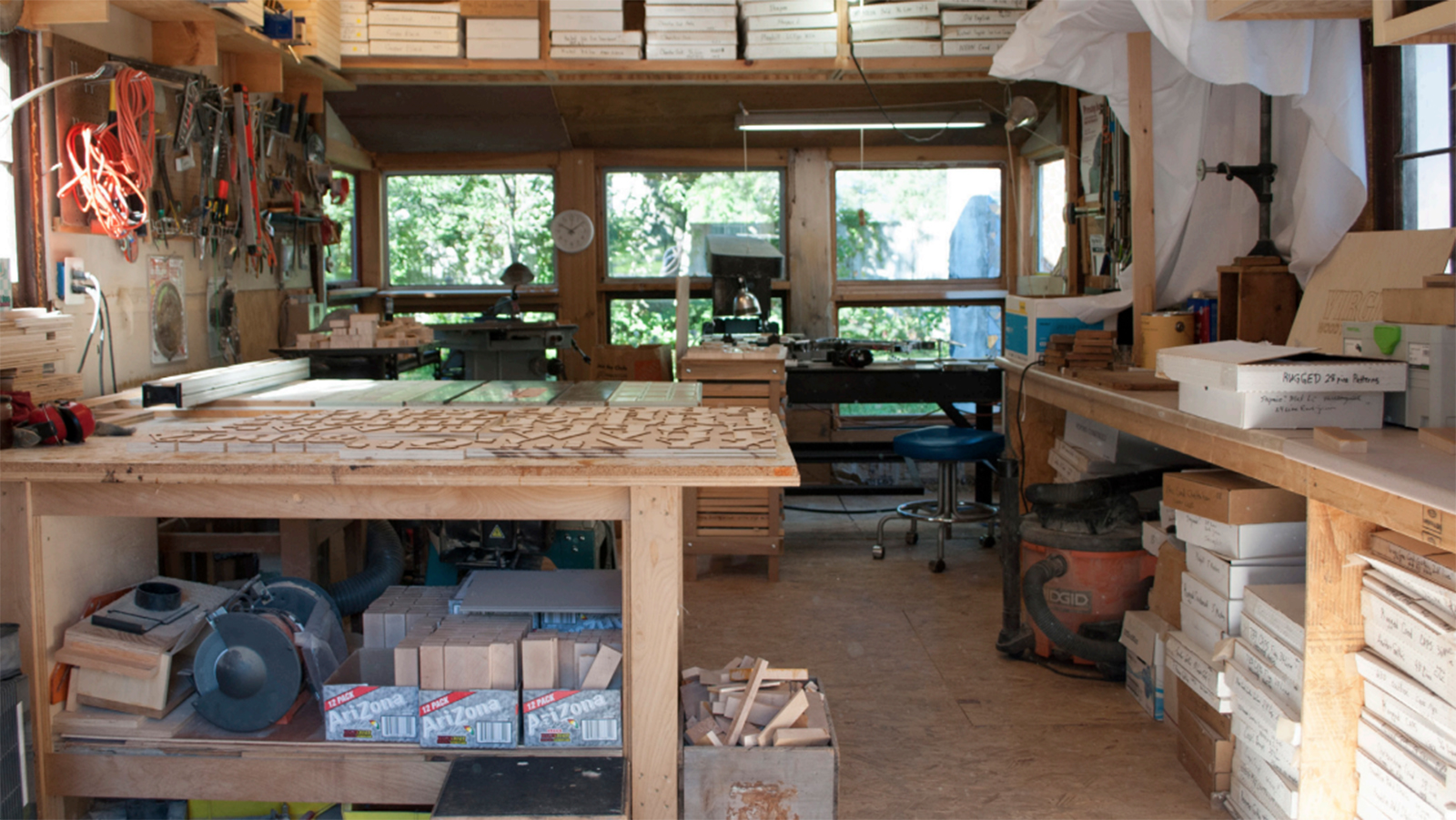 Geri McCormick is a printer and design from Rochester, New York. She began Virgin Wood Type in 2010 after working as a graphic designer for over 30 years. She specialized in revival and new handmade wood type.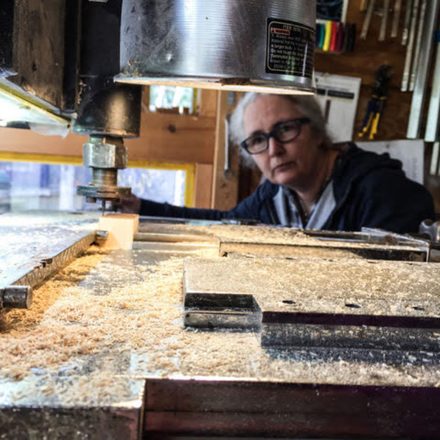 For my project, I interviewed Geri McCormick, owner of Virgin Wood Type. Geri is a designer, letterpress printer, and wood type maker from Rochester, New York. She attended Rochester Institute of Technology and studied painting. Geri's husband, Bill Jones, also attended RIT, but studied printing. Through helping him with his typography homework, Geri fell in love with design. After earning her Bachelor of Fine Arts in Painting in the 70s, Geri and Bill started to acquire letterpress equipment. It was then that she learned to hand set type and print. She went on to help with her Bill's printing business and became well versed in graphic arts and its processes.
When the MacIntosh computer was released in the 1980s, Geri and Bill saw the potential and became early adopters of the programs and softwares on the device. Geri went on to use the MacIntosh computer in her role as a graphic designer. Starting in 1988, she worked full-time as a graphic designer for over 30 years. In 2007, her friend invited her to her community letterpress studio where everything just felt so familiar – as she engaged with design through letterpress before moving totally digital. Soon after, Geri decided to switch gears and get back into printing.
"Back then, everything was switching over to offset, so it was just like you could pick up a whole letterpress studio for a song."
Reignited Passion
In 2013, Geri quit her full-time role as a graphic designer to pursue letterpress printing. They had a large Vandercook, a Replex press, and a Platen press. A Vandercook press is similar to the larger presses inside Curmudgeon Press at Miami University. RePlex is also a cylindrical press, like the Vandercook models. Platen presses are characterized by a large flat disc used for inking the rollers. There is also a Platen press at Curmudgeon Press. It was in this community shop that Geri was introduced to wood type. She had not had any in the acquisitions that her and her husband had made after college. Once she had the opportunity, she bought wood type equipment and has been making wood type ever since.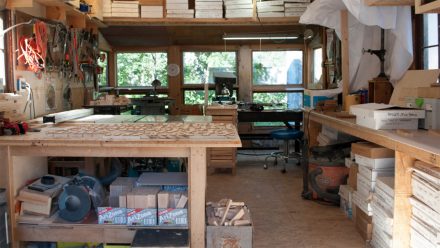 Identifying Antiquated Type
Initially, Geri simply bought wood type and the equipment to make it. She then started to research what they bought. Most of the patterns bought were originally from American Wood Type, a shop out of Long Island City, New York. Patterns are essentially stencils used to recreate a letterform on a machine. Because American Wood Type had acquired so much during their existence, catalogs of the type and patterns were necessary to distinguish the origins of the wood type and fonts. In addition to many American Wood Type catalogs, Geri has two Allied catalogs, one Acme catalog, and an Empire catalog. One notable font she has identified is from a company called Tubbs in Connecticut that dates back to the 1800s. This particular font was numbered, as many fonts were past the 1880s. No names were assigned to them, making them much more difficult to identify, especially as shops had different numbering systems. Geri has identified 5 different sources that make up her collection, in addition to many unknown ones.
"To me it was just exciting to figure out all these patterns that we have and where they came from."
Designing New Type
Beyond her patterns, she creates her own wood type through in-house designers and collaborators. She has partnered with David Wolske and Rich Kegler to create new type. In this process, David and Rich each designed type digitally that was then used to laser cut a block and make it into a pattern. The chromatic designs from Virgin Wood Type were also made in this way.
Jim Grieshaber designs works at Virgin Wood where he designs new and revival fonts. In addition to designing for Virgin Wood Type, Jim has also designed for P22 Type Foundry, Hamilton Wood Type, Google, Microsoft, and Apple. Designing type for a digital use is very different from type designed for wood. A designer needs to consider how the stylus will be able to trace the pattern in order for it to be cut properly. In addition, Virgin Wood Type creates chromatic type. Shown in the image, chromatic type is a two layer print that overlaps to make a third color. Within a type collection, the designers will add an additional bonus character that matches, such as a star or ornament. This additional piece is usually something that inspires the letter forms themselves.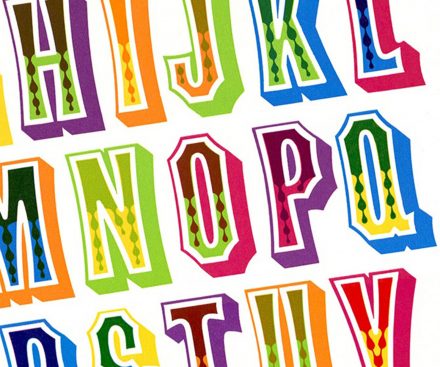 Using a Pantograph to Make Type
At Virgin Wood Type, a pantograph is used to make new wood type from patterns. Initially, the type is put into Illustrator to make them the optimal size. Next, those files are laser cut into sheets of thin wood. The letterforms are then adhered (backwards) to plywood. Geri uses a Hammond Glider to hand cut all of the pieces to the correct widths on the pattern. The uncut wood, made of hard maple, is treated, sanded, and burnished by hand. The uncut piece is set into the left side of the pantograph while the pattern is on the right. Various sizes of styluses are used to achieve the curves and counters of the type. The type goes through a series of hand cuts to ensure its accuracy. Type is then proofed with carbon paper for any mistakes before the order is shipped off. Never inked. That's what makes it virginal.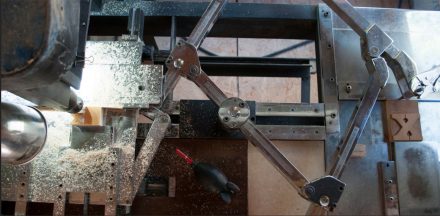 "I encountered the wood type and I just fell in love with it."