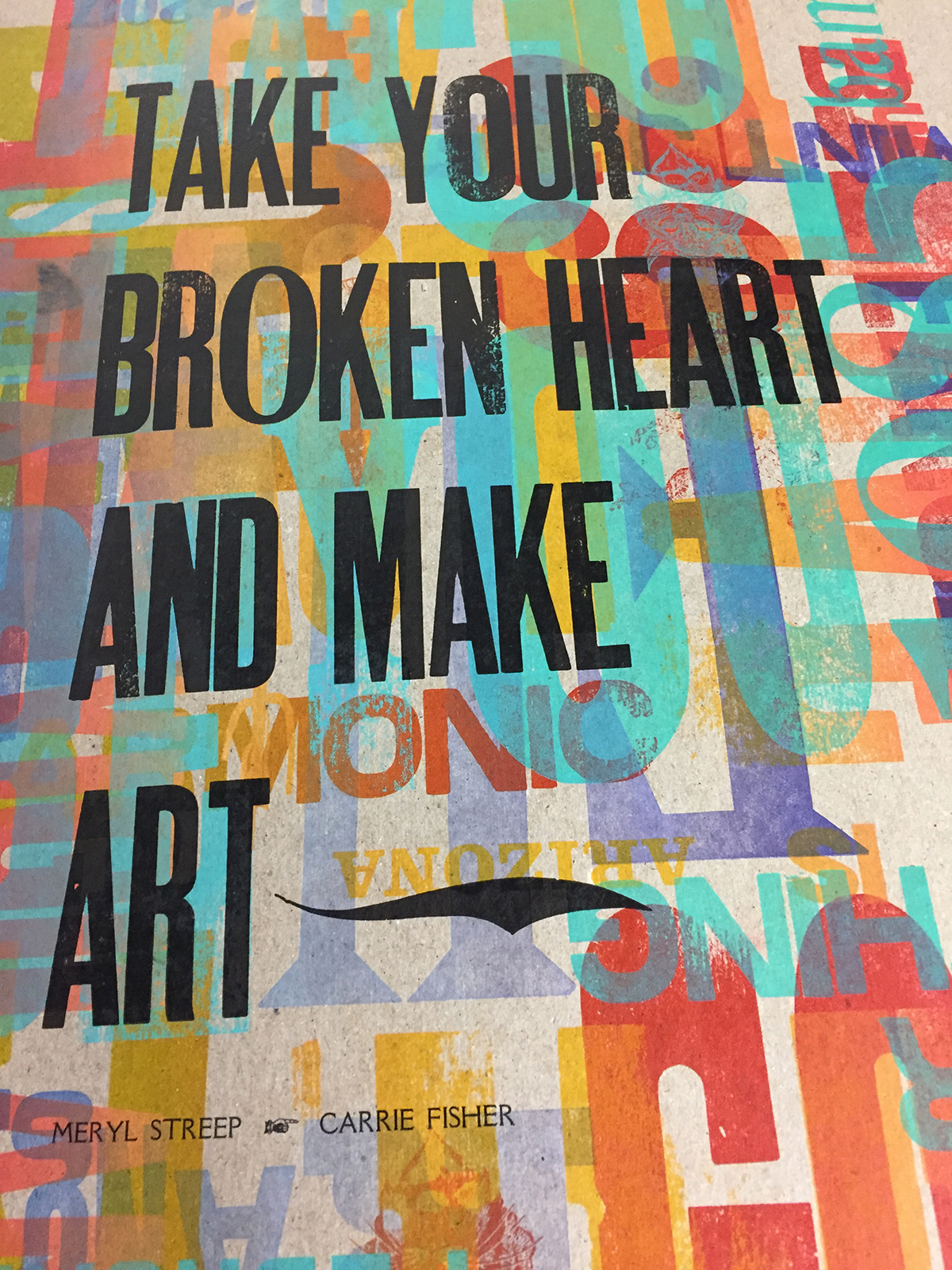 Jeryl Jones was first introduced to letterpress while attending an occupational school for commercial art. After college, she took graduate-level courses with John Risseeuw and Dan Mayer, and couldn't get enough of it. She later joined the Amalgamated Printers' Association (APA) in 2009 after working alongside Michael O'Connor, one of the founding members. Joining the APA has lead to many close friendships, professional connections, and travel across the country. She now is an adjunct professor at Grand Canyon University, where she created a letterpress studio for her students and teaches design.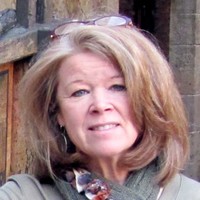 Jeryl Jones is a graphic designer and letterpress printer from upstate New York, on the east end of Lake Ontario. She was first introduced to letterpress in the 1970s, while she was attending an occupational school for commercial art. The program allowed them to exchange their hours for going to class for work in the industry. She found a job at the local publishing company that produced a newspaper and later a publication for dairy farmers. The publishing company was one of the two companies in the small town to work in; her grandmother also worked there.
All publications were produced by letterpress at this time which required many skilled printers, operators, and setters. Jones' job was a paste-up artist, which involved reviewing the proof pages to look it over and filling hickeys. These made negatives, that were then shipped to a larger company for mass production. It was a large operation. She really enjoyed her job at the publishing company but remembers Wednesdays being the worst day of the workweek. It was the day they melted down all the hot metal. It made the building so hot and the air tasted like metal; you couldn't escape it.
After college, Jones got back into letterpress when she took graduate-level courses with John Risseeuw and Dan Mayer at ASU." I just kept taking classes, because I couldn't get enough of it. After that, I was hooked." She didn't have access to presses and a collection of type outside of the school setting, so she continued taking graduate-level courses so she could continue printing. The brain-hand hand coordination required for letterpress provided a creative and mental outlet, especially after working on a computer all day. It brought her back to the times before designing with computers, everything was tactile. "It [letterpress] was almost like a love affair."
I just kept taking classes, because I couldn't get enough of it. After that, I was hooked."
Setting type is a slow process but it is a nice change of pace from always being on a computer. It is important to have a side project or hobby because of burning out in the design realm. Designers often have to meet deadlines and some projects don't allow much creativity, so it's best to have something that brings you joy, and for me, letterpress does that.
"It's best to have something that brings you joy, and for me, letterpress does that."
During the heyday of letterpress, master printers kept their techniques secret, because of the fear of losing work. Since the beginning of the letterpress resurgence, printers want the new generation of printers to jump in head first, so they're willing to help in any way possible. Thus the beginning of one of the letterpress communities is called the Amalgamated Printers' Association (APA). It celebrates professional and amateur letterpress printers.
Jones didn't know if she produced enough work to join the community, but in 2009 while working alongside her friend Michael O'Connor, #1 in the APA, she was convinced to join the list. He and his brother were the original founders. Joining the community has opened so many doors for her and has introduced her to lifelong friends and "family" from all over the world. "I can't say enough about the letterpress community." They have a shared passion for the craft and love meeting at the yearly Waygoose conference. In 2013, Jones was involved in running the Waygoose conference in Phoenix, AZ.
Pumpkin Patch Press
While taking Risseeuw's class, he told the class that it was customary to come up with a press name to be included in all of their work. Jones wasn't sure what her press name should be, so she thought about Risseew's press, Cabbagehead Press. It reminded her of her childhood nickname given to her by her father and uncle, Pumpkin, because of her bright red hair and round face. So then came the idea of Pumpkin Press, but she discovered that was already a registered press name, so then she decided upon Pumpkin Patch Press.
Her letterpress collection has evolved over the years; at first, she didn't have much space to store equipment or type. Her studio began as a spare room in her home, then the corner of the garage and now she has the entire two-car garage. It includes a Vandercook press, tabletop press, and a cabinet of type that has been collected from vintage markets and given to her by letterpress friends. Many of the presses have been acquired from all across the country and had required her or family to purchase and ship the presses.
"One of the presses I acquired I found on a letterpress site. I saw the post and immediately called, there was no time to email and wait for a response. I was the first person to inquire about it, and ending up getting the press, even though I wasn't the highest bidder and needed to wait a few weeks to pick it up. It shows how the letterpress community looks out for each other and wants to pass along the tradition, not just make money off the highest bidder."
Starting a letterpress studio at Grand Canyon University
Jones now is an adjunct professor at Grand Canyon University. She created a letterpress studio at the university and makes sure to bring type specimens, furniture, leading and kerning to teach her design students where these terms originated. This dedication to her students could also be seen, when Jones and her husband could be found moving their own printing machines into the school studio at the beginning of each semester.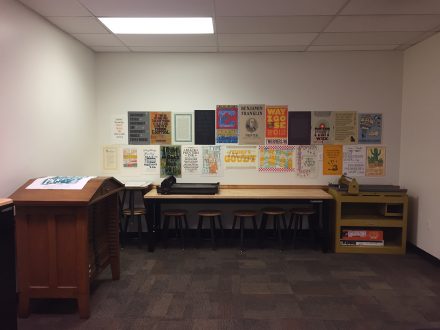 Tips for new artists interested in letterpress
Go ahead and get hooked. Start making connections, collecting type and taking classes whenever you can. It's a great creative outlet and community to be a part of, everyone is very kind. If you don't have the ability to purchase presses, type, and equipment, that is okay. There are many people in the letterpress community that do and would be willing to share their studio and knowledge. These people will become your mentors and "family". She is proud to be a part of the letterpress community and is so happy that she gets to share her knowledge with students and any artist that is interested.
Interviewed & Written by Jessica Staubach