by Elijah Vincent
Project Description
For my Data Collection project, I decided to help out a (fictional) little girl from Ecuador named Maria Veracruz. She's 8 years old, speaks in both Spanish and English, and her parents have been freshly hired to work as professors at Miami University. She was given her dream neighborhood when she moved to Hamilton, Ohio. It includes lots of outdoor play room to where she can socialize with her newly-made friends from St. Joseph Consolidated school, which happens to be a 5-minute walk away from her new home! I gathered information and data that was critical into meeting all of her criteria.
Who Was Included
The main individual focused on this project was Maria, but her parents are also somewhat included as well since they are her caregivers and sole source of transportation. I helped collaborate with Maria since I live near Hamilton. Her parents, however, were the ones who helped out the most since they were in charge of moving to Hamilton. I helped provide the key locations in Hamilton that met not just the parents' criteria, but especially Maria's. She and her family were my main audience.
Research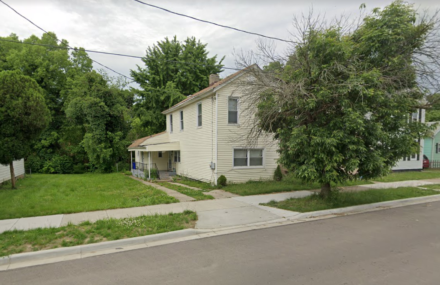 After (studying the characters and) talking to Maria and her family, I gathered all the necessary information that I needed to get in order to follow her criteria. I made data-sheets that compiled all of the information gathered from Maria's family and how compatible she would be living in Hamilton, Ohio. Eventually, I found a house on South 2nd Street in Hamilton that met all of the family's needs. A home with a wide-open yard, within walking distance of St. Jospeh's Consolidated School. Not to mention an open playground attached to the school makes a perfect place for Maria to have a social hangout with her new friends. The children in St. Jospeh are generally very friendly and kind towards newcomer students. Not to mention that Miami University has a Hamilton campus within a 5-10 minute drive, as well as the main Oxford campus being just a mere 30 minutes' drive.
Design Approach
I made several mock-ups and the final, all digital, through Adobe Illustrator. To keep with Maria's theme, I chose the color Yellow for representing the color from Maria's profile picture, Red from Ohio's state color, and Blue from St. Joseph's Consolidated Schools. I wanted to make a simple chart that clarifies the amount of goals met from what it would look like if Maria moved to Hamilton. I also created a "happy" chart on account of how happy she is with living in Hamilton. Aside from a brief snag from an inconvenience in moving into the United States, she has been happy with her moving experience to Hamilton, Ohio.
Final Deliverable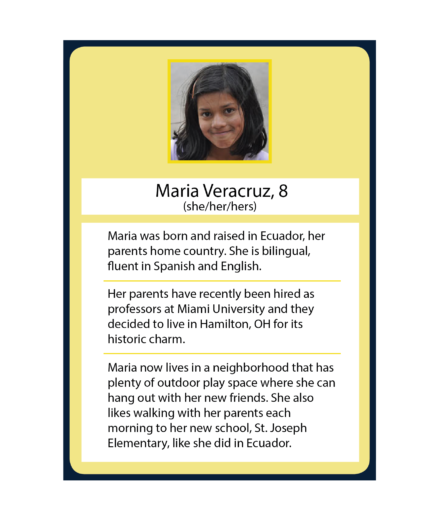 Reflections
I was happy with how well-received my work was given from Maria and her family. The only thing I wish that could've gone better was the legal process of moving Maria and her parents from Ecuador to Hamilton. It was an unusually expensive process, and an unneeded headache, but since that ended, everything else went very smoothly. If I could do this again, I would find a way to do this again without having this minor legal hiccup. Either way, I am satisfied with how I handled Maria's case.