Thesis Project
|
|
2020
Featuring:
The Cheese Class
Plant Plan | Meal Planning for the Vegan Lifestyle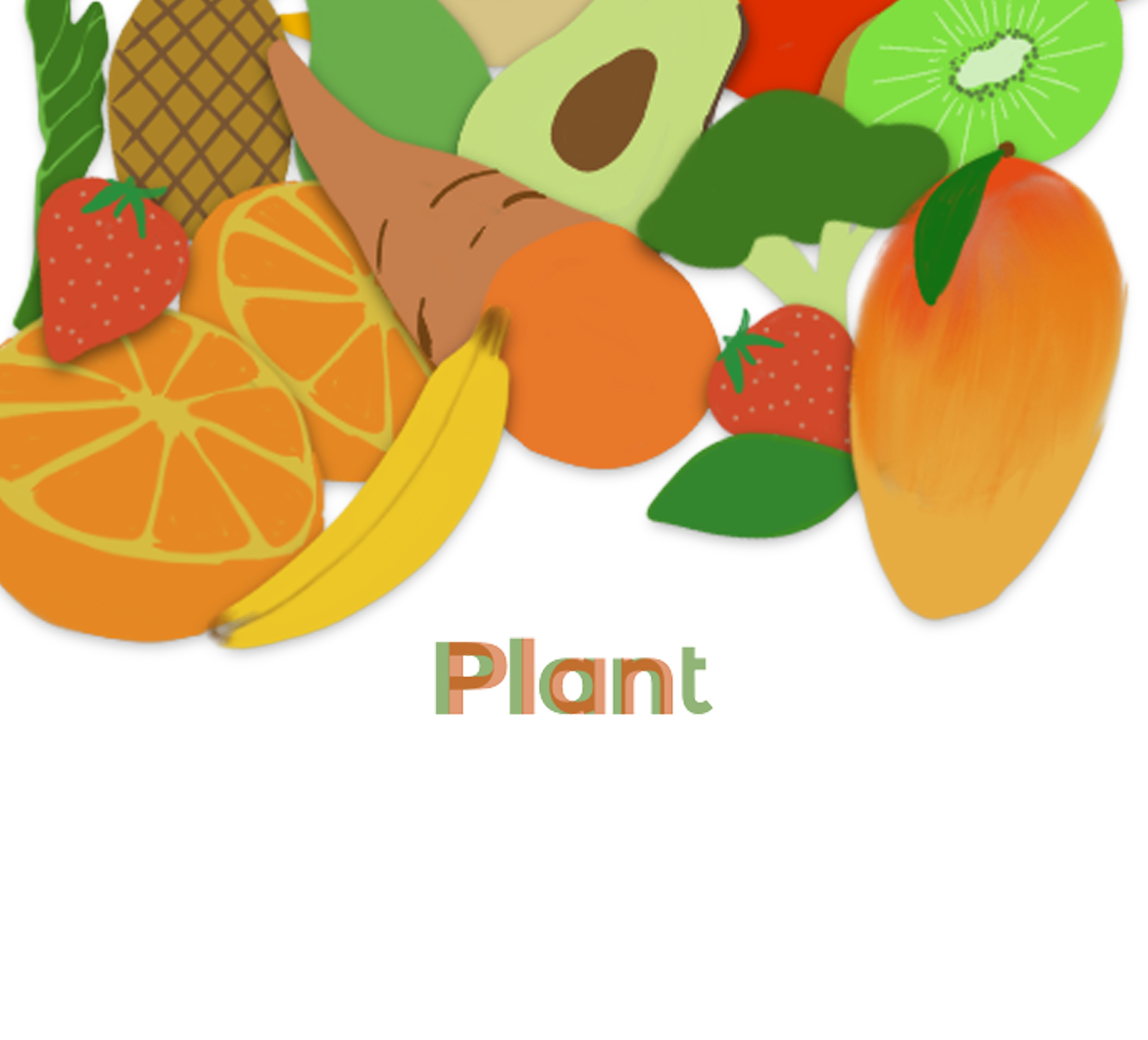 The Problem
The problem I addressed drew inspiration from my personal life with being vegan in college. I noticed that when I was on-campus and using the dining plan, it was a really easy lifestyle to maintain. However, as soon as I moved off-campus my third year, making the adjustment of cooking food, buying groceries, and combining it with a hectic school and social life made healthy eating as a vegan difficult. I wanted to investigate if this was a common experience with other vegans and how this can be mediated so people can feel the best that they can.
The question that propelled my investigation into this topic is as follows: How can college students be more informed of their dietary needs?
Success Statement
College-aged vegans would be able to better implement established recommendations in order to eat a well-balanced and nourishing diet amidst a busy lifestyle.
Target Audience
Since my research focused on college-aged vegans, they're my defined target audience, but my intended solution can resonate with anyone needing structure for juggling a vegan diet with a hectic lifestyle.
Research
Prior to this project, I didn't personally know anyone else who was vegan or plant-based at college so I needed to get differing experiences with this so I wouldn't just go with my own assumptions. I conducted my own primary research through surveying college-aged vegans as well as doing some in-depth interviews. I utilized academic sources for background information as well as more contemporary sources to get a further glimpse of what people either promoted or inquired about this lifestyle ranging from watching "What I Eat in a Day" videos posted by college students, observing conversations in vegan Facebook groups, and reading blogs. 
For my surveys, I utilized a mix of questions that prompted short answers and answers that fell within a fixed amount of choices. I thought utilizing short answer questions was effective in getting more honest and accurate descriptions of what came to the respondent's mind.
The short answers questions I asked where things like, "How do you feel on a vegan diet?" "What would make life on a vegan diet easier?" A lot of responses in this related to convenience, restaurants having healthier options, and dorm students wanting the means to cook. 
I also asked, "What strategies do you use to succeed on the vegan diet?" For that, I gained answers ranging from supplementing, using macronutrient counting apps, and meal prepping. With the question of "Where do you go to get dietary information?", the majority of respondents cited medical professionals that they either go to personally or are popular in the vegan community as well as YouTubers who focus on showcasing clinical research and information. 
With the fixed-choice questions, I was also able to arrive at some concrete stats that became key justification points for my design solution.
To identify who my solution would be the most applicable to, I determined it was going to be vegans who specifically lived off-campus as a majority of respondents identified living in some type of off-campus housing arrangement. 
This corresponds with how respondents attain food as 90% buy their own groceries. 
On a 1-5 scale, I had respondents rank themselves in regards to "Do you feel confident in knowing how to meet your dietary needs?" 88% ranked themselves a 4-5 in this area. 
A little more than half of the respondents said the college did indeed pose unique challenges to being vegan. 
And finally back to the question of lifestyle strategies used by respondents "meal prep" was the most common answer. 
With these stats, the one that drew my attention and changed the course of my project was the 88% feeling confident about being informed on how to get their dietary needs met. This also goes along with the question of sources the college-age vegans sought out as there was a definite majority in answers relating to medical professionals and accredited research on the subject. Even though this shows college-age vegans considering themselves to be informed and know what to seek out, the fact that the majority reported there being challenges with eating in an optimal way shows there's a disconnect with the knowledge and the daily implementation. 
Design Solution
With that comes my proposed solution called PlantPlan which focuses on meal planning for the hectic vegan lifestyle. While there are already options that people turn to for tracking nutrients and serving sizes such as Chronometer, The Daily Dozen App,  Wholesome, and My Fitness Pal, this app instead focuses on creating a form of life structure. How this works is that users can create their own day-by-day meal plan that will last the duration of a week and displayed at the forefront on the dashboard. 
Flexible tailoring is key as users have options to alter how many planned-in- advance meals they want to be included.  The app also gives users the option to form meal plans and recipes based on ingredient selection or from the database of finished recipes that are minimally processed and easy to make. The app also gives guidance on the number of selections one can make to ensure their meal plan has variety, then when ready one can hit the "Generate My Plan" button to get a final day-by-day list of meals. All that's left is to cook the meals in mass and spread them out throughout the week.  Users also have the option to save a meal plan to be utilized again and be copied into a grocery list that they can take with them to the store.  
To get to the final points in this process, the key reason why this design works is that it addresses crafting structure and routine, the issue of eating healthier vegan options, and assists in giving people the tools to know what to buy.
The first step in my process was creating a mood board for inspiration. Since college-aged users are the ideal base for this app, I wanted this to take a playful approach that didn't feel clinical, but still felt clean.
I then decided to create wireframes in XD and move to formal prototyping. I also hand drew my illustrations and integrated them into the prototype. Throughout the process, I was given feedback in regard to what functions should exist and the aesthetic choices I should be making.